CDMFA Lineman Development Camp and NCCP Competition - Introduction, Position Coach Clinic
---
---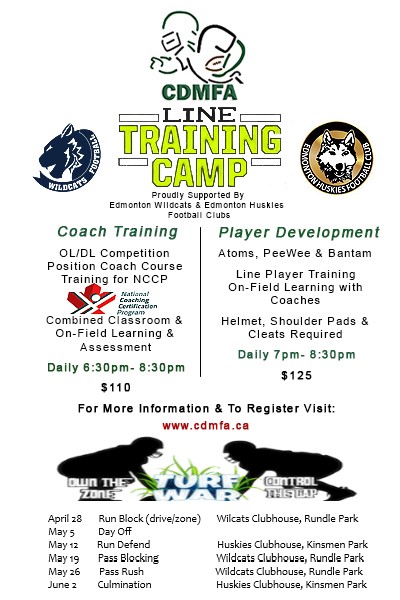 ---
The CDMFA is presenting its first Camp that is focused on improving line play in the CDMFA.
This is a dual-purpose camp that features:
1) Skill development camp for athletes that want to become better football players.
2) NCCP Competition - Introduction, Position Coach clinic for coaches who are committed to developing better linemen.
Update to original schedule!!
April 28th - Wildcats Club House, Run Block
May 5th - DAY OFF DUE TO A SPRING CAMP
May 12th - Huskies Club House, Run Defend
May 19th - Wildcats Club House, Pass Blocking
May 26th - Wildcats Club House, Pass Rush
June 2nd (NEW) - Huskies Club House, Culmination
Lineman Skill Development Football Camp
The Lineman Skill Development Camp is designed to develop the skills and techniques of players who work in the trenches for their teams. Intensive individual coaching, as well as group work, will assist in helping players to develop not only the techniques necessary to excel but also the development of each player's confidence. This camp is open to offensive linemen (including the center, guards, and tackles) and defensive linemen (including the nose guards, tackles, and ends).
COACHES - WHO SHOULD TAKE THIS WORKSHOP?
This workshop is ideal for Train to Train and Learn to Compete coaches working with athletes between 13 and 18 who are at the junior and senior high school levels, as well as summer or club levels.
Coaches will be taught basic and intermediate skills required to coach offensive, defensive or special teams position skills by an expert coach. The expert coach will also provide drill progressions and will demonstrate how to incorporate these tools into practice plans.
Upon completing this module, coaches will be able to do the following:
Plan a Practice
Analyze Performance
Provide support to athletes in training
Make Ethical Decisions (MED)
Position-specific technical material